About Us
This is the official website for Benjamin Franklin College, one of Yale's two newest residential colleges. This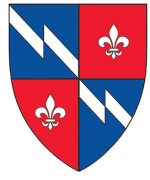 site is the best location for information about our college's history, state-of-the-art facilities, and diverse community. To stay updated with news about Benjamin Franklin College, follow us on Facebook and Instagram. 
Franklin by the numbers:
Franklin opened to students as one of two new colleges in 2017
in 2023 Franklin will have 534 students living on and off campus.
Franklin has 451 beds, 300-seat dining hall and adjacent server, a student common room, a library, a café, a buttery, bike shop and bike share and shared academic and recreational spaces on the lower level.
The college is nearly 200K square feet and is LEED Gold certified.
The windows of the new colleges look like traditional Yale casements from the outside but are, in fact, very modern and energy efficient. They include a true leaded restoration glass panel on the outside, but behind that is a full insulated glass unit. Geothermal wells in the courtyards provide 10% of the energy savings needed to achieve LEED goals.
Between Franklin and Murray, there are 400 carved stone ornaments… can you find them all?
Traditions:
Ben Franklin College traditions include, Doggapalooza, Founders Ball, Mural paintings in the Lower Level, Spring Social and the celebration of all things Franklin, from Aretha to Roseline to Roosevelt Franklin from Sesame Street, to Franklin the turtle and others.