Tutors
Tutors
Resident Writing Tutor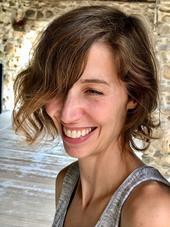 Lesley Finn majored in English at the University of Pennsylvania, after which she studied medieval and early modern literature with a focus on manuscript and print culture at Columbia University and the University of Cambridge, UK. She worked in book publishing and taught writing before earning her MFA in fiction from the University of British Columbia in Vancouver, Canada. As Benjamin Franklin's Residential College Writing Tutor, Lesley draws on her diverse academic background and continuing experience as a professional writer to support students. Originally from Baltimore, Maryland, she lives on the Connecticut shoreline in Guilford. 
Her office is Room 24, LL. Hours are:
Mondays 4 - 5 pm, Tuesdays 12 - 4 pm and Thursdays 11 am - 1 pm and 2 pm -  4 pm (BF students only) 
To sign up for an appointment go to www.yalewco.com or email lesley.finn@yale.edu.
Yale Tutoring Resources:
 Writing Center/Tutors/Partners: Writing Tutoring and Programs | Poorvu Center for Teaching and Learning (yale.edu)
 Sc/QR Tutoring: Small-Group and 1-1 Tutoring | Poorvu Center for Teaching and Learning (yale.edu)
Language Tutoring: Center for Language Study | Poorvu Center for Teaching and Learning (yale.edu)
Academic Strategies: Academic Strategies Program | Poorvu Center for Teaching and Learning (yale.edu)
Advising Resources: Welcome | Advising Resources (yale.edu)